james ashley franklin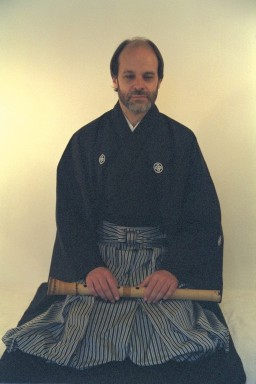 Der australische Pianist, Komponist und Musikethnologe hatte bereits etliche Auszeichnungen hinter sich, als er 1986 seinen Shakuhachi- und Zenlehrer Riley Lee traf. Danach widmete sich Franklin ganz der japanischen Bambusflöte, gab Konzerte in Australien und Europa, gewann den Preis für den besten Soundtrack beim internationalen Multi-Media-Festival in München (1990) und erhielt vom legendären Katsuya Yokoyama den Ehrentitel "Shihan" (Shakuhachi-Meister
James Ashley Franklin (Dr. Jim Franklin) has developed a musical career which bridges a wide range of styles, from classical Western music to electronic music, and to traditional and modern music for the shakuhachi. James started playing piano at the age of nine; later, he studied Western art music together with ethnomusicology at the University of Sydney, and trained as a composer. After finishing his degree in Australia, he studied composition in Europe for several years. His music has won numerous awards, in Australia and overseas.
In 1986 he met shakuhachi grand master Riley Lee, who subsequently became his teacher when James discovered a natural affinity between the music he was composing, and the music for this ancient flute. Since then, James has composed a variety of works featuring shakuhachi, and has given numerous shakuhachi performances in Australia and Europe. His music to the multi–media work Der japanische Garten (The Japanese Garden) won the prize for best original soundtrack at the 1990 Munich International Multi–Media Festival.In 1996, having studied for several years with Riley Lee, and after a period of study with world–renowned shakuhachi exponent Katsuya Yokoyama, James received from Yokoyama–sensei the title of shihan, or shakuhachi master. In 1998, James was an invited performer at the World Shakuhachi Festival in Boulder, USA. Also in 1998, James was awarded the degree of Ph.D. from the University of Sydney, for a folio of compositions and theoretical dissertations focusing on shakuhachi in combination with other instruments.
James's activities also include teaching work, both in Western and Japanese genres. In 1993 he commenced teaching shakuhachi. At the start of 1994, he was appointed as a founding lecturer who helped to establish the Music Department of the School of Contemporary Arts, University of Western Sydney, Nepean. In 1998 he was chosen to assume the role of head of department.