michael askill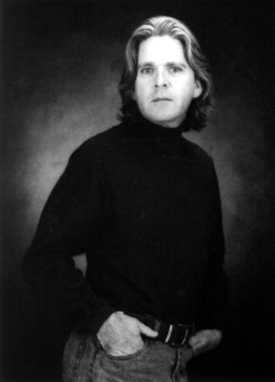 Mitte der 70er Jahre startete Michael Askill seine Karriere als Erster Schlagzeuger des Sydney Symphony Orchestras und Begründer der Perkussionsgruppe Synergy. In seinen Kompositionen verschmelzen die Rhythmen der verschiedenen Kulturen mit Avantgarde-Elementen. Vieles ist für Tanzaufführungen geschrieben und in Zusammenarbeit mit anderen Musikern entstanden (Tekbilek, Hudson, Riley Lee u.a.)
Michael Askill, the composer, is also a percussionist. In most of the world's great musical traditions, that fact might not be worth noting. But Western music has, in a sense, spent several centuries reinventing the wheel: the Western classical tradition has often treated percussion instruments as an afterthought. From the Renaissance to the Romantic era, percussionists were second-class musicians. Only in the 20th century have composers begun to treat this ancient family of instruments with the respect it gets in Arabic, African, or Asian music. Askill, formerly Principal Percussionist with the Sydney Symphony Orchestra, has spent the past twenty–five years quietly but effectively carving a niche for music that is percussion based, whether written by his contemporaries or by Askill himself.
Askill's music draws as heavily on world music traditions as it does on Western jazz, rock, and classical music. And being a percussionist, he says, definitely colors the types of music he creates. "I feel most comfortable composing in the traditional sense, on manuscript with percussion instruments." As this compilation shows, though, there is little traditional in Askill's compositions. "That's why I work with the people I do," he explains. "They bring me the improvising traditions that they are a part of Riley Lee's Japanese flute, or Omar Faruk Tekbilek's Turkish instruments and improvise within my context. Whether that's 'composition' or not, I'm not sure." To the listeners who have enjoyed Askill's work with the group Synergy Percussion, or his evocative scores for the Sydney Dance Company, such distinctions won't matter much. It is enough to marvel at Askill's eclectic blend of Asian and Western musics (a natural one for an Australian composer), and of electric and acoustic instruments (natural for a composer of the late 20th century).
Askill was born in Durban, South Africa, to a British father and a South African mother of British descent. Foreseeing some of the problems Apartheid would bring, the family moved first to Birmingham, England, and then, in 1957 when Askill was five, to Australia. ("The Australian Government were offering passages from the UK to Australia for 10 pounds!" Askill remarks.) He grew up in Adelaide, which may be one of the smaller of Australia's major cities but which nevertheless has a vibrant arts scene.
Like many of his contemporaries, Askill studied in Europe, spending some of the early '70s in Strasbourg, France at the invitation of Les Percussions de Strasbourg. Returning to Australia in 1974, he began playing in the fledgling new music scene in Sydney, meeting like-minded percussionists and eventually forming the group which became Synergy Percussion. Askill held the post of Principal Percussionist with the Sydney Symphony Orchestra for many years during the 1970s and '80s. But even while working squarely in the Western Classical tradition, with perhaps the premier orchestra in Australia and the Pacific, Askill was stretching out, working with Nigel Westlake's Magic Puddin' Band (a progressive rock group) and Synergy Percussion, among others. In 1982, he traveled to New York to study with Elden 'Buster' Bailey and Morris Lang, both then with the New York Philharmonic, and wound up studying jazz as well with David Samuels and David Friedman (both of whom, coincidentally, would record In Lands I Never Saw (13015-2) for Celestial Harmonies in 1987).
Rhythm In The Abstract: Selected Pieces 1987-1997 (15030-2) has Michael Askill's name on the cover, but his music is essentially a collaborative art, and has been throughout his career. While studying in Strasbourg in the early '70s, Askill first met the Australian dancer and choreographer Graeme Murphy, with whom he would later form a ground–breaking interdisciplinary tandem. "He was in a French company called Ballets Felix Blaska," Askill recalls, "and we saw one another when they came to Strasbourg. They were working then with two of the best French percussionists, doing dance with live music." The idea of dance with live music is not new, but in 1991 Graeme Murphy and Michael Askill began developing an extraordinary way of blending music with dance and musicians with dancers that remains one of the most remarkable collaborations in the world of dance theater.
"In 1991 Graeme came to see Matsuri (13081-2), Synergy's show with Riley Lee, Satsuki Odamura and a butoh dancer, Chin Kham Yoke", Askill says, "and asked Synergy to work with him." The result was Synergy With Synergy, a program as successful as it was big. "Free_Radicals came about because Graeme wanted to continue the dance/percussion idea on a more portable scale," Askill explains. "The Synergy show was just too big to be economical to tour." In all of their collaborations, the musicians were not only visible, but actively involved in the movements on stage. In Free_Radicals (15027-2), the percussion arsenal included the dancers' bodies. In the same piece, Askill turned a rhythmic pattern into a sequence of numbers, which in itself is not unusual...but he then gave it to several members of the dance troupe to recite, each in a different language.
In Salome (15031-2), the integration of musicians and dancers was even closer, with members of the dance troupe acting as a chorus and adding to the percussion texture. In their latest collaboration, Air And Other Invisible Forces, the musicians float around the stage on platforms that move between the dancers. Together, Graeme Murphy and Michael Askill have created a composite art that blurs the traditional distinction between dancers and musicians...and ironically, their collision of art forms, so exceptional in the West, strongly echoes the close ties between music and dance found in Africa, Indonesia, and other world traditions.
Like many Australian musicians of his generation, Askill finds his position as a Western–trained musician in a Pacific Rim country to be a great source of inspiration. With Synergy Percussion, another one of his most important and long–standing collaborations, world music—and especially Asian music—has played a major role. "Synergy was interested in commissioning new works from young and established Australian composers, but also interested in working outside of the new music scene, which was active but small," he recalls. "As percussionists, we were passionate about the roots of drumming and tried to find an approach to the interpretation of contemporary percussion music that would reflect our location within the Asia–Pacific region." The search for a meeting point was a splendid success. As the group amassed a collection of instruments from Japan and the Asian continent, Synergy Percussion began to approach even the works of American composer John Cage and other contemporary figures with a distinctly Pacific approach.
Working with Synergy helped to crystallize Askill's own approach to world music. "In Australia we have a bird called the bower bird," he says. "It goes around picking up blue objects to put in its nest. I gather lots of bits together and arrange them in my own personal style." As this compilation shows, there is no such thing as a 'typical' Askill score. While percussion remains at the heart of his music, Askill is also fond of flutes, voices, electronic sounds and digital samples. In his best works, Salome (15031-2), for example, there is also a strong narrative sense, and he has often done more structured scores for film, dance, and even a children's circus. But he has also embarked on some very unusual, "free–range" projects, where the only given is the line–up of musicians and instruments. These projects have produced some unlikely but appealing results. As a percussionist, Askill seems to find it easy to move between styles. After all, percussion is common to all of them. Even though Askill has long since relinquished his post with the Sydney Symphony Orchestra, classical works with a heavy percussion part, like Carl Orff's Carmina Burana, will occasionally lure him back to the concert stage. Askill was familiar with the teachings of Orff's longtime associate percussionist Karl Peinkofer in Munich—a fact regretfully unknown to the record company at the time of the Celestial Harmonies recording of the Orff-Schulwerk series (13104-2, 13105-2 and 13106-2).
This set of recordings covers more than a decade and includes musicians as diverse as composer/synthesist Nigel Westlake, Japanese koto player Satsuki Odamura, and the Australian Aboriginal musician David Hudson. Listeners who know of Askill's many recordings for Celestial Harmonies and Black Sun may recognize some of these pieces, but this compilation also includes some revised versions of previously released works, and offers a first glimpse at Askill's new score for Graeme Murphy's Sydney Dance Company, a work that uses digital samples from Celestial Harmonies' impressive roster of traditional world music recordings.
In fact, there is now a substantial body of music, most (but not all) of it from Australia, in the Celestial Harmonies catalogue because of Michael Askill. Enlisted to produce Daniel Binelli's Tango (15020-2), essentially because he knew where to find the Argentine musician, Askill rapidly became the conduit by which some of Australia's finest early music, world music, and contemporary ensembles were heard for the first time outside their own country. "He has been much more than a musician recording for the label," says Celestial Harmonies president Eckart Rahn. "He brought in much inspiration, great musicians and engineers, and opened up the Australian scene for us. That led to us having recorded and released internationally probably more Australian music than any other record company."
Michael Askill's own work and his tireless championing of a large variety of other people's music from Down Under has led to Celestial Harmonies' release of the complete Hildegard von Bingen edition (13127-2 and 13128-2) by Stevie Wishart's vocal ensemble Sinfonye, as well as the brilliant recording of Der Schwanengesang (The Swan-Song [13139-2]) by German baroque composer Heinrich Schütz, produced by Askill in the great concert hall of the Sydney Opera House and performed by Roland Peelman's Song Company ("a massive project," Askill says in his usual understated way). Among the numerous Australian artists whom Askill brought to Celestial Harmonies and thereby into the international limelight was Michael Atherton who recorded first with Askill on Shoalhaven Rise (15019-2) in 1995. Atherton in turn went on to record several disks in his own name. And once the floodgates were opened, a stream of Aussie talent, ranging from Prof. Margaret Kartomi (who produces Celestial Harmonies' Music of Indonesia series 14155-2, 13175-2 and 13182-2) to James Ashley Franklin (who reunited with Satsuki Odamura on Water Spirits [13160-2]), enriched the Celestial Harmonies catalogue.
It is rare to find a musician who dedicates so much of his time and energy to his fellow musicians, and does so with such enthusiasm. Askill has in turn been an artist recording his colleagues' music, a producer sharing his experience and expertise in the recording studio, and, in an informal but very effective way, an ambassador-at-large for his country's culture.
Askill says his favorite compositions are the ones that have a narrative quality. Rhythm In The Abstract: Selected Pieces 1987-1997 (15030-2) uses his music to tell the story of Askill's varied career. It can be recounted simply enough in words: the early studies in Europe, the first private recordings in Strasbourg in 1973; stints in the Australian contemporary music scene and with the Sydney Symphony Orchestra. The formation of Synergy Percussion in 1974; work with Nigel Westlake's Magic Puddin' Band and the world music group Southern Crossings in the 1980s. And finally, beginning in 1994, the first international releases on the Celestial Harmonies and Black Sun labels, and of course his meetings with Omar Faruk Tekbilek, David Hudson and Riley Lee. But the story is told more appropriately, and the narrative made more satisfying, by letting the music speak for itself.
John Schaefer
New Sounds, WNYC-FM, New York City
(based on conversations with Michael Askill)